Position:

Home
English Home
JP group Sustainability
Sustainability Management
Stakeholder Engagement
Stakeholders of Japan Post Group
Japan Post Group aims to become a Total Lifestyle Support Group to serve all stakeholders, including customers and local communities. For this reason, we believe it is important to accurately understand and satisfy stakeholders' requirements and expectations towards the Group through means such as dialogue.
Stakeholders
Main ways to gain stakeholder engagement
Customers

Counters at post offices and banks, delivery staff, PR staff, and call centers
Website, social media, etc.
Customer satisfaction surveys
Integrated reports and sustainability reports

NPOs and NGOs

Partnerships with NPOs
Implementation of collaborative projects

Suppliers

Disclosure of procurement information on website
Disclosure of approach towards procurement activities

Shareholders and Investors

General meetings of shareholders
Video messages for individual investors
Financial results briefings, small meetings
Dialogue with institutional investors and analysts
IR conferences
Integrated reports and sustainability reports

Local Communities

Disaster measures and measures against COVID-19
Partnerships with local public bodies, etc.
Flow of money to regions
Community watch activities
Education of the next generation

Employees

Dialogue with employees
Training
Internal bulletins
Portal site for employees
ES surveys
Dialogue with outside experts (August 17, 2021)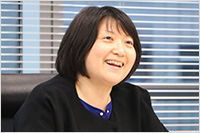 Facilitator:
Director of CSR Asia Japan
Ms. AKABANE Makiko
On August 17, 2021, we invited outside experts to engage in a dialogue about the Group's initiatives. In the session, three panel speakers provided us with insightful evaluations and recommendations on our future tasks, their expectations, and requests along with other relevant issues.
* This dialog was held online due to the COVID-19 pandemic.
Comments from experts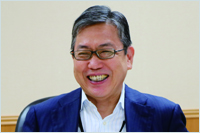 Mr. ARAI Masaru
Chair of Japan Sustainable
Investment Forum
I see the inclusion of non-financial ESG targets in the Japan Post Group Medium-Term Management Plan as extremely positive. On carbon neutrality, I hope that you will not simply set a target. Rather, as an enormous corporate group and an organization with links to local communities, I hope Japan Post Group will communicate to the government and policymakers information on specific issues such as the problem of power shortages for the spread of EVs, and support government policies. I think that the addition of a sustainability perspective to the educational materials Japan Post Bank offers for financial education is also an important initiative for the next generation.
The globally important issue of "business and human rights" also needs to be considered. I hope that Japan Post Group will use Japan's National Action Plan on Business and Human Rights as a reference and go about its business fully cognizant of the issues.
I believe that the establishment of the Sustainability Committee marks a huge step forward from the Group's previous CSR standpoint, and will lead to a greater focus on sustainability, which is globally recognized as essential. The first challenge is to ensure that senior management fully understands the importance of sustainability management. I expect to see discussions exploring sustainability management in depth. The next step is to instill sustainability management in employees. It is important to focus on sustainability at head office, branch offices, and every business site. In the huge organization that is Japan Post Group, the work done by each division varies greatly and there is, therefore, a tendency to think "this doesn't concern me." Ensuring that sustainability management percolates down to all employees is a difficult challenge. It is important that head office clearly sets out group policy and conveys the message externally and across the whole organization. It would be a good idea to flesh out the details of initiatives and communicate very specific information, devising good ways to present it.
Japan Post Group still appears to be lagging behind other more advanced companies in terms of its long-term vision and corporate culture reforms. I would like to see you strive harder for improvement, including action in response to assessments by assessment organizations. I believe Japan Post Group has now taken the first step to full-fledged sustainability and am looking forward to next year (2022) to see how much progress the Group makes.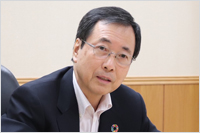 Mr. SEKI Masao
Non-tenured Professor,
Meiji University School
of Business Administration
I approve of the direction Japan Post Group aims to move in. "Providing lifelong support in an era of 100-year life" is also a good concept, and I believe that the plan of making the post office charging infrastructure available to local communities is an extremely good idea. Japan Post Group has enormous social influence and you should therefore definitely use this influence as a driving social force. For example, whilst seeing SDGs as a business opportunity from a CSV* perspective is all well and good, it is not all about positive impacts on society; responsibility for negative impacts (governance, human rights, labor issues, etc.) is also extremely important. More specifically, I would like to see initiatives based on the seven core subjects of ISO 26000, for instance. In addition, rather than aligning its activities with government policies and the standards of society at large, Japan Post Group must bring about transformation by creating demand in society and impacting markets.
Japan Post Group has made good progress in initiatives to address climate change. However, now the issue attracting as much attention as climate change among many stakeholders is biodiversity. There is also a need to focus on incorporating this into management in the future. I would also hope that as a corporate group with extensive networks in local communities, you will also actively focus on measures to tackle the issues of dementia, unoccupied houses and disasters.
My impression is that progress on ESG targets is insufficient when it comes to social aspects such as human rights due diligence and sustainable procurement. Implementation of human rights due diligence in particular is urgent and you must, therefore, tackle this properly by incorporating it into a PDCA cycle. Meanwhile, in the context of diversity, I want you to place importance on the financial inclusion of financial services, leaving no-one behind, including persons with disabilities and foreign nationals.
Instilling sustainability management in employees is a challenge facing many companies. In your external corporate communication activities, you must communicate meaningful information to avoid any concerns about SDG washing. For this and other reasons, it is important to communicate social impacts and outcomes. Besides also putting effort into internal corporate communication, I think it would be a good idea to consider the process of employee participation, for example, including young employees when creating your long-term vision.
* CSV: Creating Shared Value (process whereby companies create social value by addressing social needs and issues and economic value is also created as a result)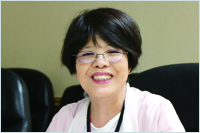 Ms. FURUYA Yukiko
Representative,
Consumer Conference
for Sustainability
The "Co-creation Platform" defined in Japan Post Group's Medium-Term Management Plan is an extremely positive initiative. I believe that your adoption of an initiative which customers can also participate in will allow you to contribute to the realization of a sustainable society. Whilst I was impressed by the fact that Japan Post Group is implementing ambitious sustainability initiatives, it seems to me that it is still catching up with trends in wider society, and there are also some aspects that lack specific details. Having a good grasp of the basic approach and policy now, at this stage, will be important for progress in the future.
Japan Post Group reorganized the CSR Committee into the Sustainability Committee, but I believe that, in light of the developments such as the revision of the Corporate Governance Code, there is still room for further consideration; for example, the Sustainability Committee does not include any members from outside the Group. I hope that Japan Post Group will definitely consider adding outside members as the pace of social developments is fast and to some extent cannot be fully considered by internal members alone.
"Customer-oriented" business will end up being superficially customer-oriented without a proper understanding of how to perceive customers and what kind of problems customers face, which are the underlying premises of customer-oriented business. It is important that, in face of risk situations for customers such as disasters and dementia, Japan Post Group asks itself what it can or should do and translates this into systems and initiatives. Japan Post Group reviewed sales targets and personnel appraisals in this regard but it is also important to change employee awareness in terms of how employees perceive customers.
As for diversity, creating business based on principles such as respect of individuals and diversity, with reference to the Guiding Principles on Business and Human Rights, will lead to real solutions.
As digitization progresses, consumers face the problem of human rights in a digital society and other issues such as the digital divide. I hope Japan Post Group will also strive to raise awareness among consumers as part of its sales and marketing and other business activities.
Furthermore, the occurrence of several more fraud scandals following a major scandal gives people outside the company to understand that fraud is still going on and creates the impression that fraud is not being dealt with properly. I felt that in your communication of information about fraud scandals, you need to come up with ways of clearly communicating your approach and initiatives more proactively.
Comments of attendees from Japan Post Group in response to comments by experts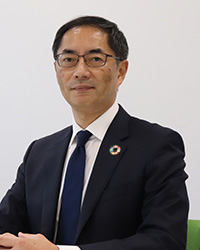 Japan Post Holdings Co., Ltd.
General Manager
of Sustainability
Management Office
SEKI Yoshiyuki
It appears that our incorporation of ESG targets into our Medium-Term Management Plan "JP Vision 2025", the first time such targets have been included, and our development of an implementation framework, i.e. the Sustainability Committee, have been welcomed as initiatives that position us on the starting line. We will take all the feedback seriously and urgently flesh out the details of each initiative. We also intend to urgently fill this gap which, as experts point out, still exists between society's understanding of issues and our understanding of issues within the Group.
Whilst there are many issues that need to be addressed, it seems that, not just with sustainability or ESG initiatives but more generally, it has rarely been the case that problem awareness has arisen from within our organization. Going forward, I would also like us to push ahead, through trial and error perhaps, with the development of systems and the creation of a corporate culture which supports human resources who take the initiative in speaking out about and actively tackling new issues.
I hope we can count on your continued guidance and encouragement in the future.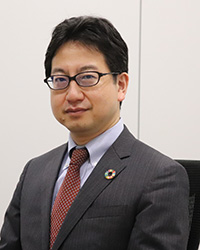 Japan Post Co., Ltd.
Executive Officer
OGAWA Masato
With the reorganization of the CSR Committee into the Sustainability Committee from FY2021 and the setting of ESG targets for the first time in our new Medium-Term Management Plan, Japan Post Group has taken a step forward in incorporating sustainability into its management.
However, experts have given us various suggestions on themes such as business and human rights, supply chain and action on climate change. They have reminded us that formulating policies and guidelines is not enough, and more in-depth and effective initiatives are needed to implement sustainability management going forward.
Taking your suggestions on board, Japan Post will cooperate with all the other Japan Post Group companies on the premise of providing universal services through our network of post offices across Japan and conducting business operations to rebuild trust. Meanwhile, within the Co-creation Platform framework, we will form partnerships with various companies and organizations outside the Group to help solve a range of issues associated with digitization, ageing population, climate change and other future developments.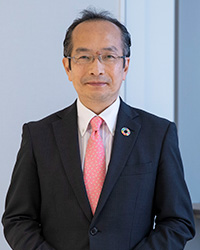 Japan Post Bank Co., Ltd.
Senior Managing
Executive Officer
YANO Harumi
Japan Post Bank announced its Medium-Term Management Plan in May 2021, putting ESG management, which focuses on resolving social issues and improving corporate value through business activities, front and center. We clearly defined the mission Japan Post Bank must fulfil by referring back to our purpose and management philosophy when formulating the plan.
I believe that our business activities as a provider of financial services, including universal financial services, to a wide range of customers across Japan has a strong affinity with the "leaving no-one behind " principle which is central to the SDGs.
Amidst the general trend towards the digitalization of financial services, our Medium-Term Management Plan sets out the strategy of striving to create a new business model for providing digital services safely and securely to all customers throughout Japan through supplementation of digital services with our nationwide post office network, based on the "leaving no-one behind" principle.
I firmly accept your opinion that every officer and employee needs to share the ESG management approach and utilize it in their day to day business. And I will strive to build trust with stakeholders and transform financial services in accordance with our Medium-Term Management Plan.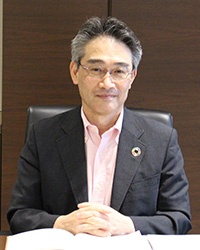 Japan Post Insurance Co., Ltd.
Managing Executive Officer
MIYANISHI Yoshiki
As a company whose survival depends on being chosen by customers and recognized by investors, initiatives to achieve SDGs are the "obvious course of action," representing, in a sense, "universal value." Moreover, I believe that squarely tackling the SDGs is essential for us to gain social approval. From this perspective, it is fair to say that clearly setting out a policy for achieving the SDGs, optimizing the allocation of resources, and formulating and steadily implementing an effective plan are important. And then, in my view, most important of all is that this corporate approach percolates down to individual employees, changing the way they communicate and behave on a day to day basis and that these changes are properly conveyed to consumers, customers and investors. I believe that challenges which touch the hearts and minds of individual employees will lead to substantive initiatives, leading to sustainable improvement in corporate value and also to increased job satisfaction and happiness among employees. I am now more determined than ever to continue working steadfastly and in good faith towards achievement of the SDGs.
Dialogues with outside experts held in FY2020
Utilizing Customer Feedback in Management
Japan Post Holdings incorporates customer opinions and requests into Group business improvements. The following are examples of service improvements based on customer feedback.
| Customer Feedback | Improvements |
| --- | --- |
| I want to make cashless payments for stamps purchased at the post office. | Credit card and other cashless payment options have been introduced at approximately 8,500 post offices nationwide. |
| I want to easily check the balance of my bankbook. | Launched the Japan Post Bank "Yucho Bankbook" app, enabling users to check current deposits and withdrawals at any time using a smartphone. |
| I want to make hospitalization insurance claims without having to go to a branch office. | Hospitalization and surgical insurance claim documents can now be ordered through the policyholder "My Page" on the Japan Post Insurance website. |
TOPICS
JP VOICE Project Initiatives
In the JP VOICE project, launched in June 2020, to improve Group risk sensitivity we designed several analytical models to understand non-customer-oriented business operations by analyzing a large amount of feedback from customers, employees, and external stakeholders. These analytical models analyze customer feedback using online surveys, social hearings, mined text data, business intelligence, and other tools to analyze and understand trends, which are promptly and accurately reported to senior management, and then feedback into relevant departments at each Group company.
In the fiscal year ended March 31, 2021, the Group implemented the initiatives described on the right.
Going forward, we will consider creating an analysis model utilizing AI and other technologies with the aim of further improving analysis results. Through efforts such as these, the Japan Post Group aims to establish a sound management structure able to provide high-quality products and services to customers.
Major initiatives
in the fiscal
year ended
March 31, 2021
From customer feedback, we identified actual condition of non-customer-oriented business operations and created a discussion guide for employees.
From employee feedback, we ascertained, classified, and shared the thoughts and actions of employees, which were used to improve Group company operations.
From social media, ongoing monitoring enabled us to quickly grasp reactions to press releases.
We organized data within the Group to share and utilize feedback from each Group company throughout the Group.
Aiming to improve group-wide risk sensitivity, analysis results were promptly reported and shared with Group executives.
Efforts to Regain Customers' Trust
Efforts to Regain Customers' Trust
To regain customers' trust which had been lost as a result of scandals such as issues with Japan Post Insurance products solicitation quality discovered in FY2019, we formulated our "Pledge to Regain Customers' Trust" in September 2020 upon receiving advice from the JP Reform Execution Committee, which consists of external experts.
Over the past year, Japan Post Group has begun activities to implement the "Pledge to Regain Customers' Trust," including expressing our apologies to customers, with the aim of transforming ourselves into a truly customer-oriented company. At a meeting in September 2021, the JP Reform Execution Committee stated that, according to its assessment, Japan Post Group's activities to regain trust had achieved some success.
Japan Post Group aims to become a company that our customers can trust and to ensure that we remain worthy of our customers' trust moving forward, we will give top priority to customer-oriented business operations and work to provide products and services which live up to customers' expectations.
Pledge to Regain Customers' Trust and Assessment Results
Pledge
Level of
customer
satisfaction
Level of
employee
awareness
Level of
achievement
Committee
assessment
Total/
Assessment
score

Pledge 1

We are committed to customer-oriented business operations and providing satisfying and courteous services for customers.
4.0
4.2
4.7
4.3
17.2/20

Pledge 2

We will carefully listen to feedback from customers in order to reflect it in the improvement of our services.
3.8
4.2
5.0
4.3
17.3/20

Pledge 3

We will enhance the expertise of our employees so that they can provide accurate and easy-to-understand explanations to satisfy our customers.
3.9
4.1
4.5
4.0
16.5/20

Pledge 4

We will comply with laws and regulations and provide high-quality services that our customers can use with a peace of mind.
3.8
4.5
2.2
3.6
14.1/20

Pledge 5

We will provide products and services that will bring joy to our customers based on their needs.
3.6
3.7
5.0
3.7
16.0/20
Assessment of achievement of pledge
81.1/100
Other Activities of JP Reform Execution Committee
The JP Reform Execution Committee was established with the aim of asking external experts to give various types of advice from a fair and neutral standpoint on Japan Post Group's initiatives.
Besides advice on the "Pledge to Regain Customers' Trust," the JP Reform Execution Committee also gives us advice on a wide variety of topics, which is then used for Japan Post Group's business operations.
The main topics discussed by the JP Reform Execution Committee to date are as follows.
Main topics

Progress of business improvement plan concerning the solicitation quality issues, etc., of Japan Post Insurance products
Japan Post Group's growth strategies
Customer-oriented consultation structure as Japan Post Group
Group governance at Japan Post Holdings
Nature of governance within Japan Post Group in the future
Provision of services by the Telephone Consultation Desk for Japan Post Insurance, etc. manned by Consumer Affairs Consultants
The "Telephone Consultation Desk for Japan Post Insurance, etc. manned by Consumer Affairs Consultants" was established in August 2020 so that users of Japan Post Insurance, etc., may seek for advice in a more reliable manner.
This customer advising service is provided by consumer affairs consultants who are experts on various types of consultation concerning consumer affairs from a fair and neutral standpoint, and they continue to receive consultations in 2021. (Number of receptions: 2,968: as of September 30, 2021)
Exchanging Opinions with Employees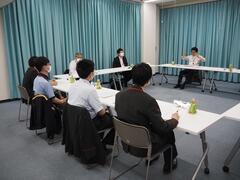 At the Japan Post Group, part of our efforts to realize an open corporate culture include holding regular meetings at which Group employees working on the front lines are able to exchange opinions with the Japan Post Holdings President.
At these meetings, a lively exchange of opinions takes place in accordance with different themes chosen for each meeting, such as initiatives for new growth and operational improvements discovered through customer feedback. In addition to disseminating senior management intentions to employees throughout the Group, feedback from employees is incorporated to improve management.
Dialogues with stakeholders and investors
To contribute to sustainable growth and enhancement of corporate value over the medium to long term, the Japan Post Group aims to disclose information accurately and equally to all shareholders and investors. In an effort to engage in constructive dialogues, feedback and requests received through dialogues are shared throughout the Company and utilized to improve management.
Activities in the fiscal year ended March 31, 2021
Activity
Detail
16th Annual General Meeting of Shareholders
Date: June 18, 2021
Attendees: 173
Individual investor video messages
Japan Post Group Director and Representative Executive Officer, President & CEO, MASUDA Hiroya, posts video messages on the Japan Post Holdings website explaining business details and future strategies.
Financial results briefings & small meetings for fiscal year ended March 31, 2021 (for institutional investors & analysts)
Meetings held: 7
Dialogue with institutional investors & analysts
Meetings held: 116
(Including about 58 individual interviews with overseas investors)
Participation in IR conferences in Japan and abroad
Number of times participated: 6 times
participated in conferences hosted by securities companies and held meetings
IR annual schedule
First Quarter
Apr.
May
Full-year financial results
Jun.
General Meeting of Shareholders
Second Quarter
Jul.
Integrated Report issued
Aug.
1Q financial results
Sep.
Third Quarter
Oct.
Nov.
2Q Financial results
Dec.
Fourth Quarter
Jan.
Intermediate disclosure published
Feb.
3Q financial results
Mar.
Third-Party Opinions
Related information
---
---
---