The directors and executive officers of Japan Post Holdings Co., Ltd., as of April 1,2019, are as follows: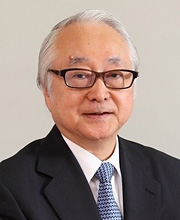 Director and Representative Executive Officer,
President & CEO

Masatsugu Nagato
Director and Representative Executive Officer,
Senior Executive Vice President

Yasuo Suzuki
Director

Norito Ikeda
Kunio Yokoyama
Mitsuhiko Uehira
Riki Mukai
Miwako Noma
Representative Director, Nippon Gurashi Co., Ltd.
Representative Director, Mochizuki Inc.
Akio Mimura
Honorary Chairman, Nippon Steel Corporation
Chairman, Japan Chamber of Commerce and Industry
Chairman, Tokyo Chamber of Commerce and Industry
Outside Director, Development Bank of Japan Inc.
External Director, Innovation Network Corporation of Japan
Outside Director, Tokio Marine Holdings, Inc.
Outside Director, Nisshin Seifun Group Inc.
Tadashi Yagi
Adviser, K.K. Kyodo News.
Kunio Ishihara
Senior Adviser to the Board, Tokio Marine & Nichido Fire Insurance Co., Ltd.
External Corporate Auditor, Tokyu Corporation
External Director, NIKON Corporation
Charles Ditmars Lake Ⅱ
Chairman and Representative Director, Aflac Life Insurance Japan Ltd.
President, Aflac International Incorporated
Outside Director, Tokyo Electron Ltd.
Michiko Hirono
Outside Director, NEC Networks & System Integration Corporation
Norio Munakata
Attorney
Tsuyoshi Okamoto
Senior Corporate Advisor, Tokyo Gas Co.,Ltd.
Outside Director, Asahi Kasei Corporation
Miharu Koezuka
Advisor, Takashimaya Co.,Ltd.
Director, Okayama Takashimaya Co.,Ltd.
Advisor, Dear Mayuko Co.,Ltd.
Nomination Committee

Akio Mimura (Chair)
Kunio Ishihara
Masatsugu Nagato

Audit Committee

Tadashi Yagi (Chair)
Miwako Noma
Norio Munakata
Miharu Koezuka
Riki Mukai

Compensation Committee

Tsuyoshi Okamoto (Chair)
Tadashi Yagi
Masatsugu Nagato
Representative Executive Officer, Executive Vice President

Toshihide Komatsu
Yoshifumi Iwasaki

Senior Managing Executive Officers

Kunio Tanigaki
Noboru Ichikura
Kazuhide Kinugawa
Atsuhiko Ikeda
Toru Inasawa

Managing Executive Officers

Kenji Fukumoto
Kimihiko Oku
Yoshiharu Miyazaki
Hiroaki Kawamoto
Kenji Ogata
Hiroyuki Furusato
Kenichi Kozuka
Chikashi Isayama
Kazuyuki Negishi
Susumu Tanaka
Nobuyasu kato

Executive Officers

Makoto Sakurai
Tsutomu Shomura
Mamiko Izumi
Noriko Kinoshita
Katsuhiko Sato
Toshitaka Shima
Kozo Otaka
Nobuo Tsuruda
Makoto Kazamatsuri
Kenji Meguro
Hitoshi Arawaka