Position:

Home
English Home
Sustainability
Top message
We pray for those who have lost their lives due to the COVID-19, typhoons, torrential rains, or other natural disasters, and wish to express our sincerest condolences to their families and friends. At the same time, we would like to express our heartfelt sympathies to all those who have been greatly affected by the pandemic or disasters.
We sincerely hope that they can return to their peaceful lives as soon as possible.
First and foremost, we would like to make deepest apologies to all customers and stakeholders concerning issues related to the solicitation quality of Japan Post Insurance products.
We, Japan Post Group, thereby will thoroughly commit ourselves to regaining customers' trust that we have lost due to such malpractice.
Returning to the Group's founding purpose
Japan Post Group has been providing universal postal, savings, and insurance services across Japan for over 100 years.
Nevertheless, a series of our issues has made us painfully aware of the importance of long-standing connections with customers, local communities, and their trust in our services. This realization has raised our consciousness for pursuing the very purpose for which we exist. Therefore, we believe that reflecting our Group's founding purpose is a first step to make a fresh restart towards regaining trust from society.
Japan Post Group Management Philosophy expresses our goals; to operate for the happiness of customers and employees and contribute to the development of society and local communities.
Our customers' happiness is a source of delight for every employee of the Group, and this is why we strive to bring happiness to our customers through our products and services they desire.
To help grow local communities and society through the chain reaction of happiness - this is precisely the goal that we, Japan Post Group, should strive to achieve through our business.
In such regards, we believe that it is essential for all our employees to understand the Group's Management Philosophy and achieve each goal, one by one, to recover trust and start to grow as a corporation once again.
Japan Post Group's future and sustainability
Most importantly, our business activities do not stand without customers, local communities, suppliers, and our employees, who use and support the Group's products and services daily.
Moreover, as a large-scale corporation operating in number of offices and making heavy use of automobiles, we take our responsibility to tackle global environmental issues, such as climate change, for well granted.
Therefore, we will contribute to the development of a sustainable society through extending our appreciation to all who are involved in our business activities, supporting them side by side, and creating new values for the society.
Indeed, such concerns and determinations regarding sustainability are fully reflected in Japan Post Group CSR Basic Policy.
In Japan Post Group CSR Basic Policy, we not only express our resolutions on three themes to achieve our value in society and continuous growth - "together with local communities", "together with the earth", and "together with people", but also display our determinations to pursue the Group's Management Philosophy.
From the perspective of sustainability in management, we have included Sustainable Development Goals (SDGs) in the framework of the Japan Post Group Medium-Term Management Plan 2020. In FY2020, the final year of the plan, we will continue to address sustainability issues throughout our businesses.
We will commence a new medium-term management plan in the next fiscal year. Through the program, we will adopt long-term considerations on sustainability management to achieve a sustainable society.
Honestly, faithfully, humbly, always with gratitude
Since I assumed my position at Japan Post Group, I have encouraged our employees to listen to the voices of our customers persistently, faithfully, and humbly, with a sense of gratitude.
In this way, we can reflect the spirit of Hisoka Maejima, the founder of modern postal service, into our Group's Management Philosophy and CSR Basic Policy through following his words - "Do not hesitate to work behind the scenes. Always aspire yourself to bring others good."
Once again, we, Japan Post Group, cannot stress enough the importance of our founding purpose as a basis for our mission in society and to resolve our issues step by step.
This realization will certainly drive forward the Group's growth and sustainable society all together.
However long it takes, we, Japan Post Group in unity, will strive to become society's trusted choice as ever and beyond.
I greatly appreciate your continued support and guidance.
October 2020
Japan Post Holdings Co., Ltd.
Director and Representative Executive Officer,
Hiroya Masuda
Messages from the Presidents of the Japan Post Group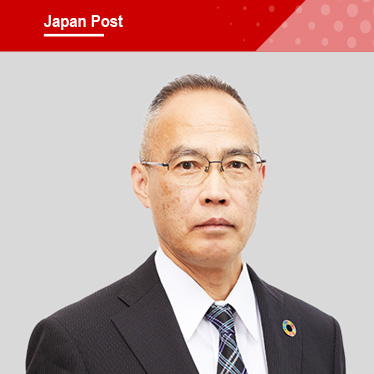 First, we would like to make deepest apologies to all customers and stakeholders concerning issues related to the solicitation quality of Japan Post Insurance products.
As Japan Post, we have operated social infrastructure and fulfilled what we recognize as our duty; to maintain universal services for local communities across Japan through postal, logistic, and financial services.
Moving forward, we will continue to do our best at each post office to pursue our social duties through providing convenience and meeting expectations for customers and local communities.
Currently, people's lives are greatly affected by the COVID-19 pandemics.
Under such circumstance, we believe that it is essential to strengthen our access, convenience, and commitment to local communities through fulfilling our duties one by one. In this way, Japan Post will contribute to the development of local communities and Sustainable Development Goals (SDGs) that we pursue.
Founded in 1871 by Hisoka Maejima, we, as a Japan's postal service business, will celebrate the 150th anniversary in April 2021.
As we approach to the major milestone, let us reflect once again on the founder's spirit to work towards regaining customers' trust and reestablishing ourselves as a customer-oriented, locally trusted corporation.
Japan Post Co., Ltd.
President & CEO (Representative Executive Officer)
Kazuhide Kinugawa
For over 140 years since its foundation, we, Japan Post Bank, have worked across Japan to achieve social and economic growths underlined by our history and trust with local communities.
Meanwhile, we would like to make deepest apologies for causing damages and concerns through not only violating internal rules on investment trust sales but also misusing our payment services.
For the loss of trust from such misconducts, we will humbly commit ourselves to enhancing our services, such as through security improvements, and redefine our Group in the context of our ideal once again - "Have more people say 'JP Bank, of course'".
Currently, Japan faces an imposing array of social issues, including the declining birthrate, aging population, contraction of regional economies, climate change, and the COVID-19 pandemic.
To ensure that we are committed to our stakeholders and solve these social issues, we have set forth a range of targets related to the Sustainable Development Goals (SDGs) for each one of four themes - "customers and market", "local communities", "environment", and "employees (diversity management)". All our employees will embrace these targets and mark their work under the criteria.
In April 2020, we established the ESG Team within the Corporate Planning Department, to strengthen the system to support these activities.
We will continue to utilize our unique strengths, such as our nationwide financial network, enormous amount of operating funds, and countless number of accounts, all of which we have been trusted to guard, as a way to contribute to solving social issues through participating in regional revitalization funds, ESG investments, and other initiatives.
Japan Post Bank Co., Ltd.
Director, President and Representative Executive Officer
Norito Ikeda
We would like to make deepest apologies to our stakeholders for the great troubles caused by the improper solicitation of Japan Post Insurance products.
We will make every possible effort to regain customers' trust as soon as we can.
Since the establishment of 'postal life insurance', we have provided many local communities with smalltime life insurance services accessible via post offices.
Our management philosophy, "Be a truthful partner for people. Always stay close with them and protect their well-being," has reflected our determination to protect and work closely with our customers.
When uncertainties, such as the COVID-19 pandemic, catastrophic natural disasters caused by climate change, and other abnormal situations, threaten people's perception toward life and health, we must prove ourselves to be an adept, reliable insurance company. Ultimately, this resolution overlaps with our path to achieve sustainable growth of society and SDGs.
For this purpose, we will advance initiatives for solving ESG issues through investment activities, including the purchase of bonds aimed at controlling the spread of the COVID-19. We will also contribute to the promotion of good health and revitalization of local communities by providing Sukoyakanpo, a health support app, and by creating opportunities to exercise through Radio Exercise. As such, we will embark on wide-ranging initiatives to achieve the SDGs at all levels.
Above all, we recognize that it is our crucial objective to make sustainable future viable through our business activities. Therefore, the Group will strive to solve social issues with our full potential.
Japan Post Insurance Co., Ltd.
Director and President, CEO, Representative Executive Officer
Tetsuya Senda
Related Information
---
---
---