Position:

Home
English Home
Sustainability
Stakeholder Engagement
Japan Post Group aims to become a Total Lifestyle Support Group to serve all stakeholders, including customers and local communities. For this reason, we believe it is important to accurately understand and satisfy stakeholders' requirements and expectations towards the Group through means such as dialogue.
Stakeholders
Main ways to gain stakeholder engagement
Customers

Provision of information regarding products and services and the receipt of feedback and inquiries over the counter at post offices, etc. and through delivery persons, employees in charge of public relations and call centers
Provision of information on Japan Post Group website, social media and by other means
Implementation of customer satisfaction surveys
Publication of integrated reports and sustainability reports

NPOs & NGOs

Cooperation with NPOs
Implementation of collaborative projects

Business partners

Disclosure of procurement information on Japan Post Group websites
Disclosure of Japan Post Group's approaches to procurement activities

Shareholders & Investors

General meetings of shareholders
Briefing sessions for private investors
Implementation of results briefing sessions, small meetings for institutional investors and analysts and IR conferences
Dialogues with institutional investors and analysts
Publication of integrated reports and sustainability reports
Implementation of dialogues with stakeholders

Local communities

Cooperation with local public authorities
Disaster prevention activities
Monitoring activities for local communities
Workplace tours and work experience in post offices, etc.
Support for fostering the next generation
Volunteer activities

Employees

Dialogues with employees
Implementation of questionnaires
Implementation of employee satisfaction surveys
Implementation of training
Publication of in-house Group newsletters
Intranet for employees
Implementation of counseling
Dialogue with outside experts (September 1, 2020)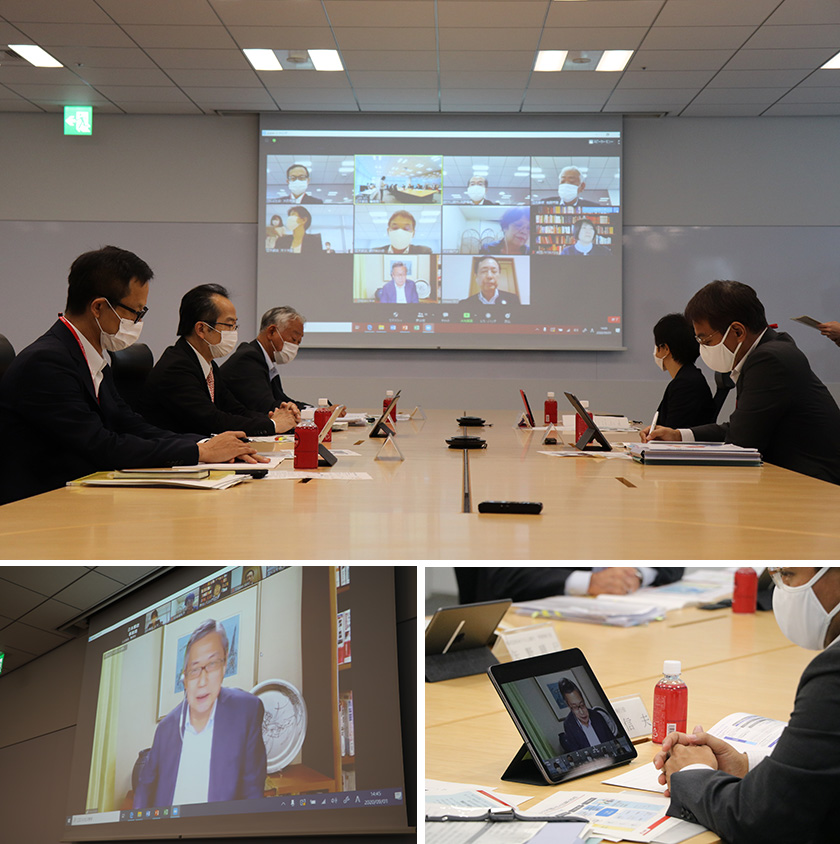 Facilitator:
Director of CSR Asia Japan
Ms. Makiko Akabane
On September 1, 2020, we invited outside experts to engage in a dialogue about the Group's CSR initiatives. In the session, three panel speakers provided us with insightful evaluations and recommendations on our future tasks, their expectations, and requests along with other relevant issues.
This dialog was held online due to the COVID-19 pandemic.
Comments from experts
Mr. Masaru Arai
Chair of Japan Sustainable Investment Forum
First of all, I would like to give Japan Post Group high marks for spending a considerable number of pages in its Integrated Report to analyze the causes of the misconduct in the sales of Japan Post Insurance products and initiatives to prevent future incidents. Second, disclosing detailed information about initiatives for utilizing customer feedback and employee trainings is as equally important as implementing such measures.
Today, it is expected that Japanese corporations will eventually adopt the Western style of corporate governance and roles of directors. Indeed, in Europe and the United States, outside directors are responsible for supervising executive officers, and foreign investors nowadays assert that Japanese corporations should also separate business execution from its supervision. Since I believe that Japanese Corporate Governance Code will be revised in the near future, I also suggest adjusting the Group's governance to the new style of corporate governance.
In addition, the Group must work earnestly to adopt to external evaluations on ESG-related issues. In doing so, it should be clearly understood that information disclosure is prerequisite for any evaluations concerning ESG, to say nothing of initiatives themselves.
Finally, I would like to commend Japan Post Group for their community-based business, which I am sure cannot be substituted by any other financial institutions. I hope that Japan Post Group will actively advance initiatives that make the best use of such unique strengths.
Mr. Masao Seki
Non-tenured Professor, Meiji University School of Business Administration
To begin with, Japan Post Group already discloses its human rights and procurement policies. Nevertheless, the Group needs to go one step further and establish a management structure based on PDCA cycles. The Group should opt for specific actions and targets to prevent human rights abuse and disclose initiatives regarding business and human rights.
The same is true for initiatives for procurement. Indeed, the scale of the Group's business and their vast supply chain make it easy for the Group to bring enormous environmental and social impacts to the society. For such matter, I strongly suggest the Group to take specific actions through PDCA cycles and disclose their achievements with transparency.
Regarding the TCFD, the Group should develop ultra-long-term scenarios of social changes, essential actions, and other relevant issues before setting ambitious goals and strategies to achieve greater competitiveness of the Group.
Ms. Yukiko Furuya
Representative, Consumer Conference for Sustainability
To put Management Philosophy and Charter of Corporate Conduct into practice, I recommend the Group to help their employees work on daily operations according to the Philosophy and Charter.
In addition, since the quality of being "customer-oriented" is abstract, there needs an explicit interpretation, perhaps in a form of company-wide standards or a system, to be applied in the Group's business management. Starting now, the Group should utilize the information collected through the "Telephone Consultation Center for Japan Post Insurance, etc. by Customer Affairs Specialists" to acquaint themselves with the real experience of consumers and customers, discuss what it takes to realize "customer-oriented" actions, and decide concrete measures accordingly.
In addition, while the Group proposes to work on a wide variety of initiatives, I have found the Group's considerations for "consumer safety and security" relatively insufficient. Indeed, the idea of "consumer safety and security" is a core element of the Group's operations and deserves full attention in the daily context.
In response to the comments by the three experts
Japan Post Holdings Co., Ltd.
Managing Executive Officer
Noriko Kinoshita
After reviewing the dialogue last year, we reaffirmed that, through having expert meetings, we have received critical recommendations regarding our governance system, training, consumer safety, and stakeholder relationships.
This year, we once again received numerous advices for various aspects, such as business and human rights, procurement, consumer safety and security, and governance system. Thanks to those advices, we have resolved to take one step further in reviewing our current approaches, policies, initiatives, and other aspects of business.
Above all, we believe that there is a growing importance in our attitude and ability to reflect wishes from our stakeholders, especially from our customers, to the Group's business management.
Based on the opinions and recommendations by the three experts, we will promote our business operations to regain trust from the society.
Customer-oriented business operations
In order to further promote customer-oriented business operations, Japan Post Group established The Basic Policies Concerning on Customer-Oriented Business Management. (Japan Post Insurance: April 2017, Japan Post Bank: June 2017, Japan Post Holdings and Japan Post: March 2018.)
Under the guidance of the management philosophy described below, Japan Post Group strives to promote customer-oriented business operations:
"Stressing the security and confidence of Japan Post Group network, the Group, as a private corporation, is demonstrating creativity and efficiency to the greatest extent possible and will provide customer-oriented services, support the lives of customers in local communities and aim for the happiness of customers and employees. The Group will also pursue managerial transparency on its own, observe rules and contribute to the development of society and the region."
Initiatives to reflect customer feedback in management
Initiatives to reflect customer feedback in management -- System chart --
Japan Post Group collects and analyzes customer feedback, implements necessary improvements and strives to offer products and services that satisfy customers.
In addition, we embarked on new initiatives for utilizing our customers' opinions to improve our business management, such as the JP VOICE Project, in which we analyze and share customers' opinions collected from post office, call centers, posts on social networking services and other relevant platforms, and the Telephone Consultation Desk for Japan Post Insurance, etc. manned by Consumer Affairs Consultants.
Dialogues with stakeholders and investors
To achieve sustainable growth and medium- to long-term improvement of our corporate value, we, Japan Post Group, will disclose accurate information to our shareholders, investors, and relevant stakeholders. Furthermore, we will engage in a dialogue with shareholders and investors through various opportunities, such as briefings for private investors and conferences with analysts and institutional investors, in addition to general meetings of shareholders. Japan Post Group will humbly reflect the feedback from our shareholders and investors to our business management as an effort to enhance our corporate value.
For the 15th Ordinary General Meeting of Shareholders held on Wednesday, June 17, 2020, we implemented the following measures to control the spread of COVID-19.
・We requested that shareholders exercise their voting rights in advance and refrain from attending the meeting in person.
・The meeting was streamed live on the internet.
・We received questions in advance via the internet.
・We ensured social distancing between seats.
・Shareholders, people on stage, and staff wore masks.
・We made hand sanitizer available in multiple locations.
・We checked the body temperature of attendees using thermography at the receptionist desk.
General meeting of shareholders (first venue)
General meeting of shareholders (second venue)
Related information
---
---
---